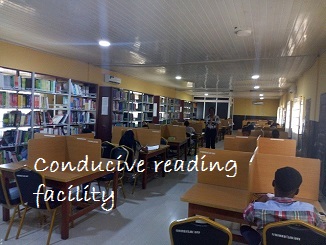 ---
Welcome to the Library website at the University of Medical Sciences (UNIMED), Ondo City, Nigeria. The University Library is a repository of knowledge and information. Generally, libraries are the sine qua non in the academic structure of every university and are established to support the learning, teaching and research activities in higher institutions.

At the UNIMED Library, we provide access to competent academic librarians, information resources, facilities and services targeted at ensuring that students achieve their academic goals. Presently, the Library has a holding of about 6,000 volumes in print collection. We also provide access to about 40 databases and online information resources through this website, and our e-Library comprises of an e-book collection of offline basic textbooks for every department in the University.
Our research services, trainings, and supports are carefully planned to offer access to research literature and other information materials from major databases and institutions around the world, thus enabling researchers and students in the University to conduct research without information hindrance. Additionally, as obtainable in modern libraries across the globe, we are also in the process of launching our Institutional Repository, which will archive, establish access and showcase the intellectual outputs of UNIMED to the world.
I welcome you to explore and use our resources and service, and I wish you success in your academic pursuit.
Femi J. Folorunso, CLN
Ag. University Librarian